Training by Fullstaq
Using our years of applied knowledge in the cloud-native ecosystem, we have created two training programs for Kubernetes.
Learning Kubernetes can be daunting. During these sessions, we help you understand that Kubernetes isn't as complex as it might seem at first!
During the training, you can expect insight into Kubernetes, all topics for a certification covered, and hands-on labs with instructor-led training. But most of all, we aim to keep our training fun and interactive!
Two-day training or multiple shorter sessions? Remote, in-house, or in our brand new training room? We're happy to discuss your specific needs to give you an exact pricing per day.
Sound interesting? Reach out to get started asap.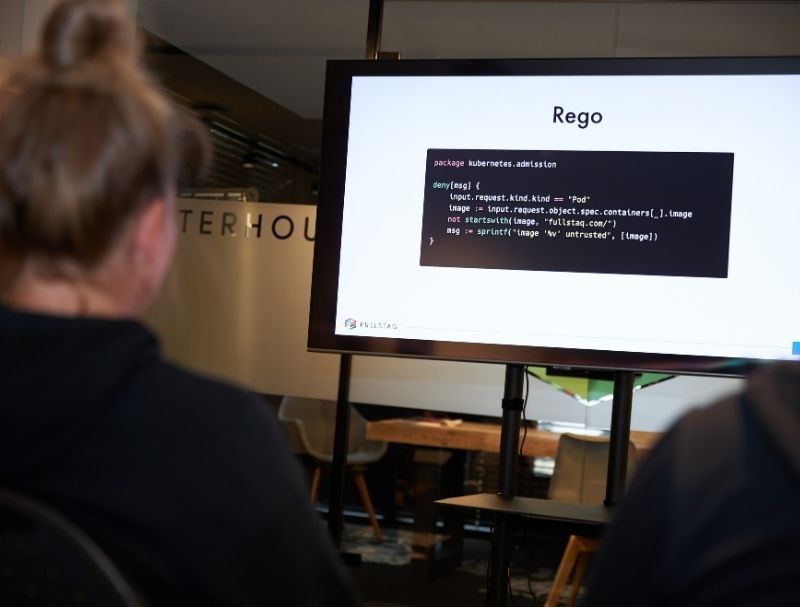 Kubernetes for Administrators
Four days of training designed to bring engineers who have experience operating servers up to speed on containers and Kubernetes. No previous knowledge required about containers or Kubernetes.
The Kubernetes for Administrators course covers many topics: deployment strategies, configuration, Pods, Services, and Ingress – just to name a few.
Get all the details
Kubernetes Tutorials & Best Practices
In this technical (Dutch) video, Fabian explains more about Security & Kubernetes. What are things you think about if you want to create a secure environment? Did you miss any?
Have you ever had to rethink your standard pipelines because it was growing in complexity and difficulty? In this video, Fabian Met goes into the differences between CI and CD in the often-used acronym CI/CD. And gives 4 reasons why you should split them.
In this (Dutch) video Fabian Met explains how you can split CI from CD. In our previous video, we addressed what CI/CD is and why you should split CI from CD. By doing this, you'll solve four problems. Now watch how you can do it.
Don't be a stranger!
Give us a call or leave a note.