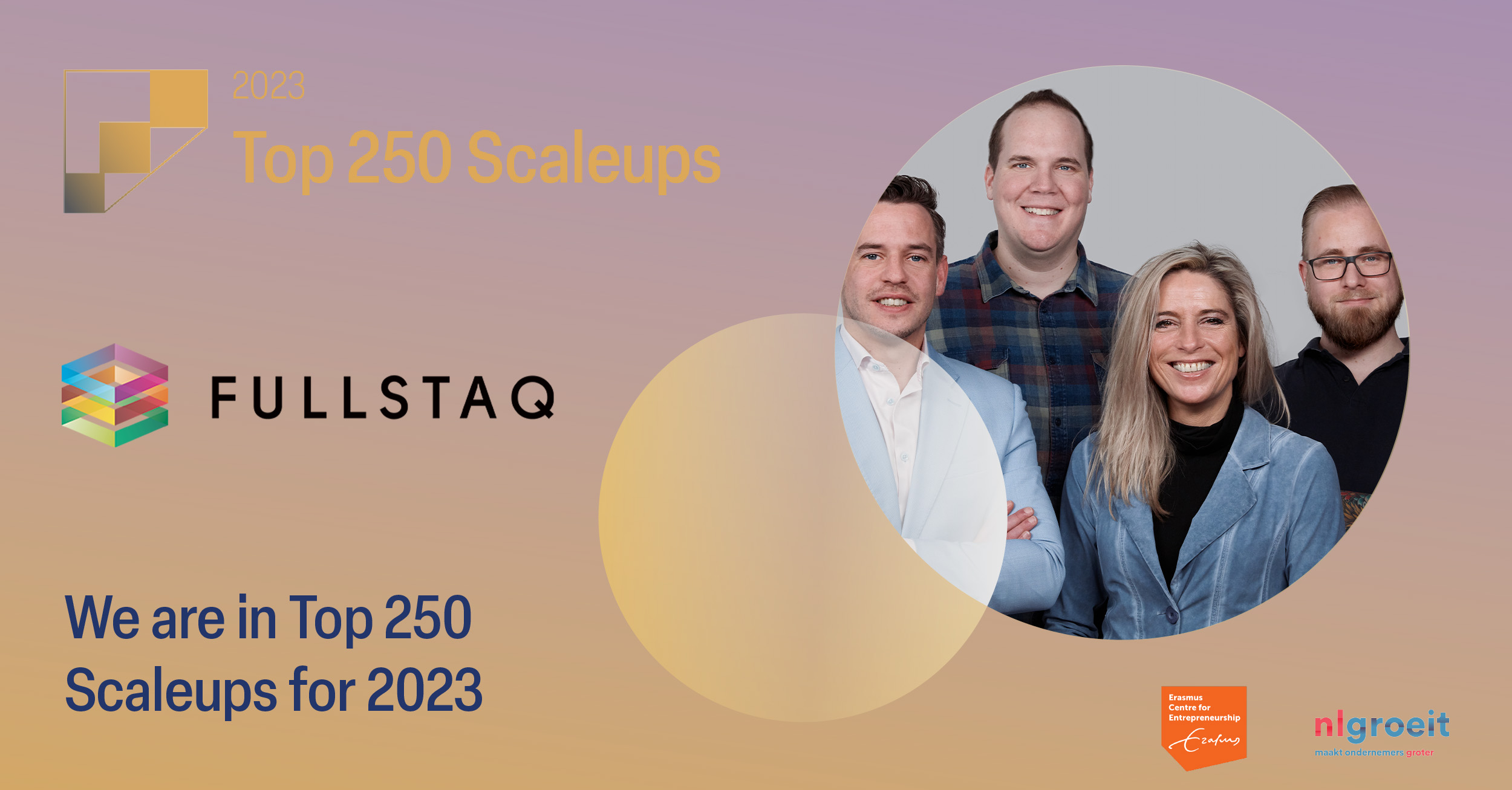 Fullstaq is one of the Top 250 Scaleups in the Netherlands this year. What does that mean? The Erasmus Centre for Entrepreneurship conducts a yearly research in collaboration with NLgroeit. This research looks at which are the fastest-growing companies in the Netherlands. They shed a light on innovative entrepreneurship and the importance of growing businesses.
About the Top 250
Scaleups
For the last seven years, Erasmus and NLgroeit have been conducting research towards businesses in the Netherlands and their growth. Based on their absolute and relative percentages of the number of jobs between 2019 and 2022, the 250 companies grew with almost 50.000 FTEs. Creating new job opportunities and a positive impact around them and on society. This year, 168 new companies joined the list. One of which being Fullstaq.
"These businesses create a high value for their customers in unique and innovative ways." - Justin Jansen, professor Corporate Entrepreneurship.
The challenges of growing as a company
The biggest challenge about growing as a company is to stay organised and manage and stimulate growth in exponentially growing complexities. To keep this up year after year while scaling as a company is an even bigger achievement. The top 250 is a way to highlight companies that have been able to keep up with these complexities and connect them so they can learn from each other.
"Fullstaq's growth was immense the last couple years and we are proud to be acknowledged by the Top 250 Scaleups. Now, we focus on more professionalization and the right steps for scaling." - Guston Remie, COO at Fullstaq
For this edition, Erasmus and NLgroeit specifically focussed on growing businesses with a positive impact on their environment and society. Fast-growing companies are more involved with the Sustainable Development Goals (SDGs). 30% of the Top 250 Scaleups has a focus on at least one of the SDGs. This makes it more special that it is Fullstaq's first mention in the 250 Scaleups ranking. Where we are, we don't know yet, however. September 25th is the big reveal, and we'll have the opportunity to meet members of the other businesses to learn and get inspired on how we can continue our path to success.
Interested in the full report? You can request it for free on the webpage of NLgroeit.